products/gora_2.jpg
The Vulcane is an elegant cane for a special substance called Lycopodium - used together carefully they can make massive fire effects to shock your audience.
Lycopodium is a fine dry powder made of a plant which has been used for fire effects for hundreds of years.
You need to sprinkle the powder into a flame. Upon contact it will catch fire and makes a massive fire circle around you.
First you need to apply the Lycopodium into the tube (using a funnel works best). Then you can apply the paraffin to the Kevlar on the Vulcane with a syringe. From the moment you place the Lycopodium into the tube, you have to keep the cane upright. Then carefully light the cane - make sure that there is no person, animal or any flammable material in 6 metre diameter space around you. Only if the space is safe, you can then swing the cane strongly. The centrifugal force will bring out the powder which will ignite upon contact with the head. Needless to say this is a very dangerous prop and only available to adults with adequate training.

Price is for 1 Vulcane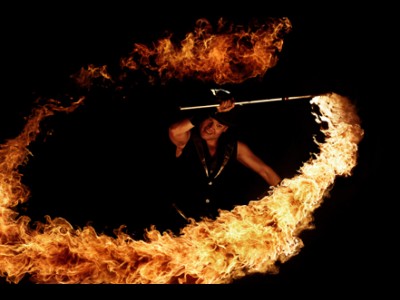 Product Description
The Vulcane is an elegant cane for a special substance called Lycopodium - used together carefully they can make massive fire effects to shock your audience.
Lycopodium is a fine dry powder made of a plant which has been used for fire effects for hundreds of years.
You need to sprinkle the powder into a flame. Upon contact it will catch fire and makes a massive fire circle around you.
First you need to apply the Lycopodium into the tube (using a funnel works best). Then you can apply the paraffin to the Kevlar on the Vulcane with a syringe. From the moment you place the Lycopodium into the tube, you have to keep the cane upright. Then carefully light the cane - make sure that there is no person, animal or any flammable material in 6 metre diameter space around you. Only if the space is safe, you can then swing the cane strongly. The centrifugal force will bring out the powder which will ignite upon contact with the head. Needless to say this is a very dangerous prop and only available to adults with adequate training.
Price is for 1 Vulcane
Please read the Oddballs Fire Safety Information prior to making your purchase.
It is important to us that customers understand how to use their prop safely and properly manage the risks involved in fire performance.
Similar Products
I LOVE my vulcane! T...
I LOVE my vulcane! This is by far the best fire tool i have purchased to date. if you want to stand out and make your mark - this is the tool for you!