products/hoop-107_1_1.gif
All new for 2018 the Juggle Dream Aurora 2 has arrived and is better than ever. After listening to all the feedback from our super duper hooper friends, the gauge of the tubing has now been reduced from the previous 24 mm down to 20 and the overall diameter has been reduced to 95cm (37.5inches). We feel this makes for a much more responsive hoop. We have also ditched the old 3 pin mains charging and moved to a detachable, USB rechargeable 1100 mAh Rechargeable Lithium Battery (charging cable supplied).

The new removable battery allows the hoop to be charged on the go using a power pack, or extra batteries can be bought (coming soon) so you can charge one while using the other. Moving to the detachable system does mean the hoop has a small section (about 20 cm) without LEDs, but this is not visible while the hoop is spinning and we feel it is more than worth the flexibility of having detachable batteries.

The 76 super bright RGB LED lights allow over 300 different functions including solid white, red, green, blue, yellow, cyan and magenta, plus too many changing, pulsing and strobing effects to even begin to mention (all with variable speed control:). All functions are available at the tip of your fingers, using the mini remote control and up to 10 of your favourite functions can be pre-set for instant access using the customisable favourites menu.

The Aurora2's mini remote is smaller than a credit card and will easily away tuck into any costume without interfering with the hooper's movement. Alternatively, the remote is effective up to 10 m, so can easily be operated by someone offstage. Specification... LEDs: 76 Power supply: Detachable, USB rechargeable 1100 mAh Rechargeable Lithium Battery. Playing time: 2- 4 hours depending on charge level and functions used. Charging time: The hoops should be charged for 2 hours. This will give one hour of continuous very bright playtime. Weight: 285g Diameter: 95cm (37.4 inches) Tubing diameter: 20mm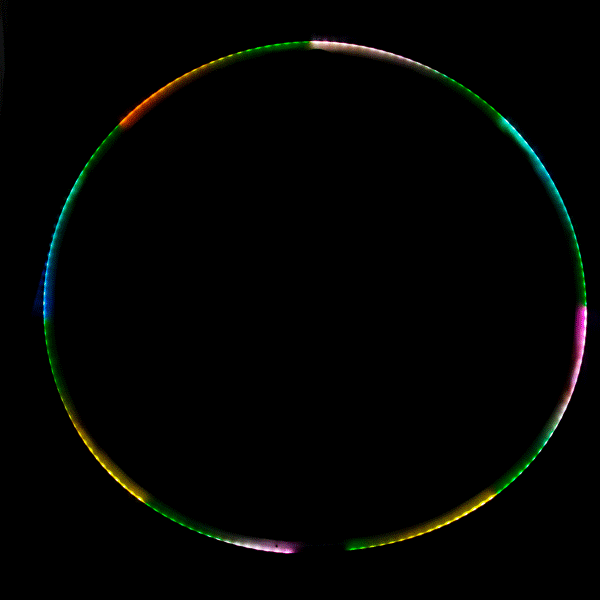 Product Description
All new for 2018 the Juggle Dream Aurora 2 has arrived and is better than ever. After listening to all the feedback from our super duper hooper friends, the gauge of the tubing has now been reduced from the previous 24 mm down to 20 and the overall diameter has been reduced to 95cm (37.5inches). We feel this makes for a much more responsive hoop. We have also ditched the old 3 pin mains charging and moved to a detachable, USB rechargeable 1100 mAh Rechargeable Lithium Battery (charging cable supplied).
The new removable battery allows the hoop to be charged on the go using a power pack, or extra batteries can be bought (coming soon) so you can charge one while using the other. Moving to the detachable system does mean the hoop has a small section (about 20 cm) without LEDs, but this is not visible while the hoop is spinning and we feel it is more than worth the flexibility of having detachable batteries.
The 76 super bright RGB LED lights allow over 300 different functions including solid white, red, green, blue, yellow, cyan and magenta, plus too many changing, pulsing and strobing effects to even begin to mention (all with variable speed control:). All functions are available at the tip of your fingers, using the mini remote control and up to 10 of your favourite functions can be pre-set for instant access using the customisable favourites menu.
The Aurora2's mini remote is smaller than a credit card and will easily away tuck into any costume without interfering with the hooper's movement. Alternatively, the remote is effective up to 10 m, so can easily be operated by someone offstage. Specification... LEDs: 76 Power supply: Detachable, USB rechargeable 1100 mAh Rechargeable Lithium Battery. Playing time: 2- 4 hours depending on charge level and functions used. Charging time: The hoops should be charged for 2 hours. This will give one hour of continuous very bright playtime. Weight: 285g Diameter: 95cm (37.4 inches) Tubing diameter: 20mm
Similar Products