products/kapla_100_case_1.png
This compact and partitioned wooden case will guide builders on their first constructions and offer hours of play, whether solo or with family and friends.

The 100-piece Case contains 100 KAPLA planks in natural Landes pine which can be used to build new worlds from your imagination... towers, animals, houses, or creatures of fantasy: the game evolves with you and sparks creativity!

Need a little inspiration to get started? Included with the case are four models with step-by-step instructions: a train, a plane, a house, and a butterfly. All four constructions can be made using the case's 100 planks and vary in complexity - a challenge for all builders!

Once you've made your way through these constructions, feel free to explore and invent your own!

THE MAGIC OF KAPLA®

Sourced from 100% renewable French forests, KAPLA planks are made from natural Landes pine. The coloured planks are dyed using food-safe colouring.

KAPLA planks are all the same size and allow builders to play and create with endless possibilities. The planks are simply assembled without the need for glue or clips, so you can build from the imagination.

A KAPLA construction is by its nature short-lived, and breaking it apart is often as fun as building it! The same planks can be re-used to build other imaginative structures and worlds... An open-ended game for hours of creativity!

- Natural

100% natural and sustainable Landes pine

- Universal

Suitable for ages 2+, to play solo or in groups

- Simple

The planks are all the same size and can be assembled without the need for glue

- Educational

Stimulates creativity, ingenuity, perseverance, and dexterity

- Limitless

Identical pieces, endless construction possibilities

Planks 100

Colours Natural

Height 27 cm

Width 27 cm

Depth 8 cm

Weight 2 kg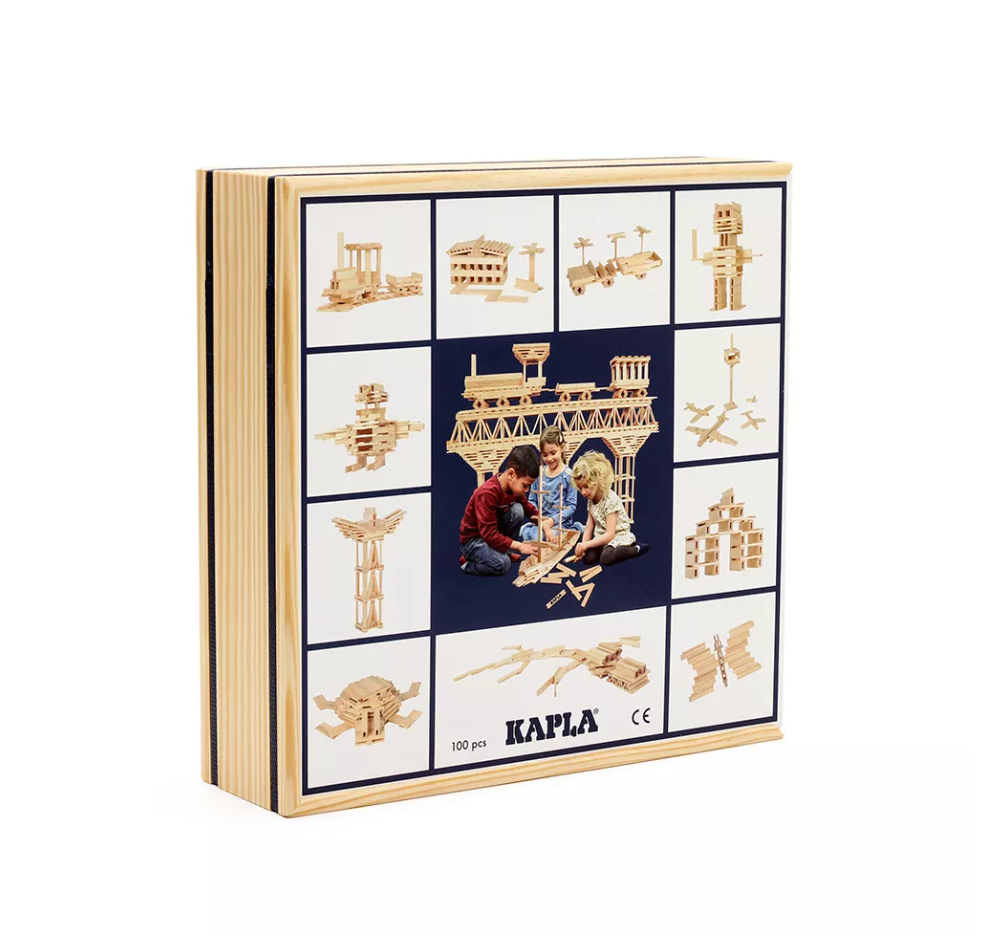 Product Description
This compact and partitioned wooden case will guide builders on their first constructions and offer hours of play, whether solo or with family and friends.
The 100-piece Case contains 100 KAPLA planks in natural Landes pine which can be used to build new worlds from your imagination... towers, animals, houses, or creatures of fantasy: the game evolves with you and sparks creativity!
Need a little inspiration to get started? Included with the case are four models with step-by-step instructions: a train, a plane, a house, and a butterfly. All four constructions can be made using the case's 100 planks and vary in complexity - a challenge for all builders!
Once you've made your way through these constructions, feel free to explore and invent your own!
THE MAGIC OF KAPLA®
Sourced from 100% renewable French forests, KAPLA planks are made from natural Landes pine. The coloured planks are dyed using food-safe colouring.
KAPLA planks are all the same size and allow builders to play and create with endless possibilities. The planks are simply assembled without the need for glue or clips, so you can build from the imagination.
A KAPLA construction is by its nature short-lived, and breaking it apart is often as fun as building it! The same planks can be re-used to build other imaginative structures and worlds... An open-ended game for hours of creativity!
- Natural
100% natural and sustainable Landes pine
- Universal
Suitable for ages 2+, to play solo or in groups
- Simple
The planks are all the same size and can be assembled without the need for glue
- Educational
Stimulates creativity, ingenuity, perseverance, and dexterity
- Limitless
Identical pieces, endless construction possibilities
Planks 100
Colours Natural
Height 27 cm
Width 27 cm
Depth 8 cm
Weight 2 kg
Similar Products