products/200_box_kapla_4.png
As the brand's flagship product, the 200 Box has provided hours of play for millions of little builders ever since KAPLA® was created.

The KAPLA Box contains 200 identical planks made from natural Landes pine. An instruction booklet provides basic guidance, techniques, and models.

Simply assemble the planks, without glue or clips, and build what you wish! Balance is the only rule, and imagination is the only limit.

We also offer a special limited edition KAPLA Collector Box, personally signed by Tom van der Bruggen, the creator of KAPLA®.

THE MAGIC OF KAPLA®

Sourced from 100% renewable French forests, KAPLA planks are made from natural Landes pine. The coloured planks are dyed using food-safe colouring.

KAPLA planks are all the same size and allow builders to play and create with endless possibilities. The planks are simply assembled without the need for glue or clips, so you can build from the imagination.

A KAPLA construction is by its nature short-lived, and breaking it apart is often as fun as building it! The same planks can be re-used to build other imaginative structures and worlds ... An open-ended game for hours of creativity!

- Natural

100% natural and sustainable Landes pine

- Universal

Suitable for ages 2+, to play solo or in groups

- Simple

The planks are all the same size and can be assembled without the need for glue

- Educational

Stimulates creativity, ingenuity, perseverance, and dexterity

- Limitless

Identical pieces, endless construction possibilities

Planks 200

Colours Natural

Height 38 cm

Width 25 cm

Depth 15 cm

Weight 3 kg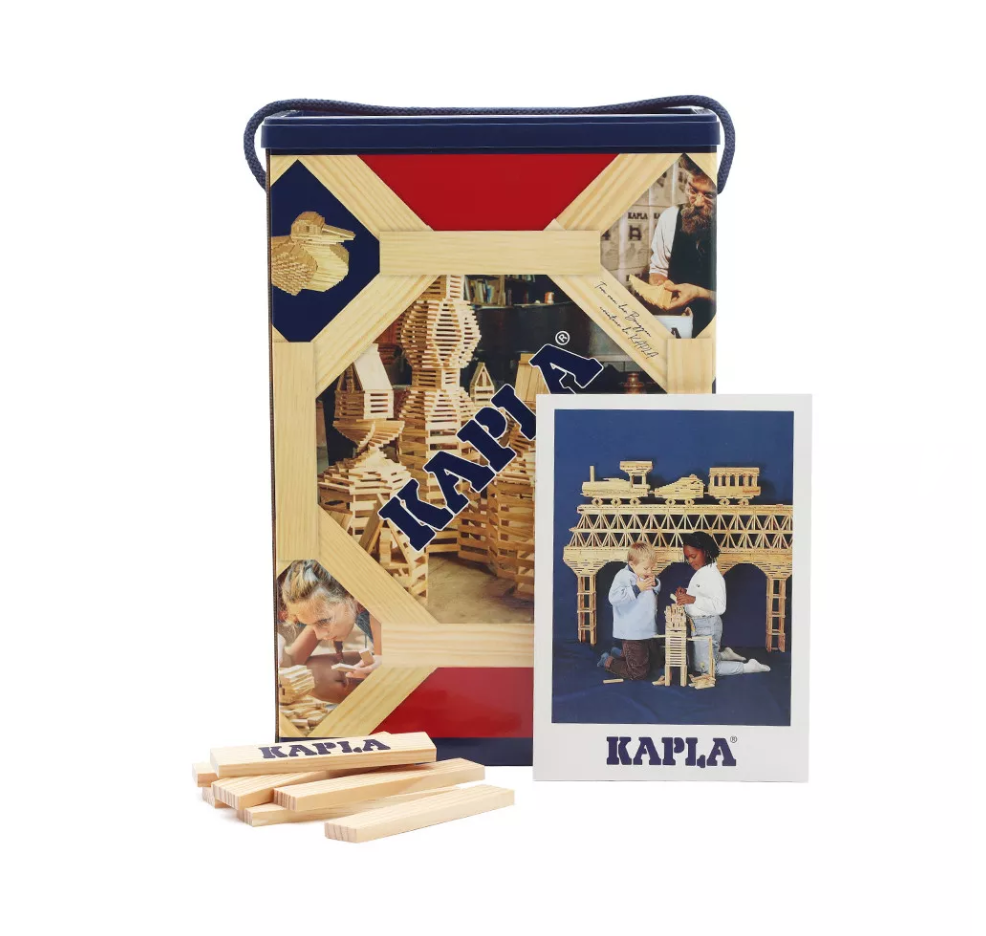 Product Description
As the brand's flagship product, the 200 Box has provided hours of play for millions of little builders ever since KAPLA® was created.
The KAPLA Box contains 200 identical planks made from natural Landes pine. An instruction booklet provides basic guidance, techniques, and models.
Simply assemble the planks, without glue or clips, and build what you wish! Balance is the only rule, and imagination is the only limit.
We also offer a special limited edition KAPLA Collector Box, personally signed by Tom van der Bruggen, the creator of KAPLA®.
THE MAGIC OF KAPLA®
Sourced from 100% renewable French forests, KAPLA planks are made from natural Landes pine. The coloured planks are dyed using food-safe colouring.
KAPLA planks are all the same size and allow builders to play and create with endless possibilities. The planks are simply assembled without the need for glue or clips, so you can build from the imagination.
A KAPLA construction is by its nature short-lived, and breaking it apart is often as fun as building it! The same planks can be re-used to build other imaginative structures and worlds ... An open-ended game for hours of creativity!
- Natural
100% natural and sustainable Landes pine
- Universal
Suitable for ages 2+, to play solo or in groups
- Simple
The planks are all the same size and can be assembled without the need for glue
- Educational
Stimulates creativity, ingenuity, perseverance, and dexterity
- Limitless
Identical pieces, endless construction possibilities
Planks 200
Colours Natural
Height 38 cm
Width 25 cm
Depth 15 cm
Weight 3 kg
Similar Products