products/kapla_book_and_colours_light_dark_blue_1.png
The KAPLA Book and Colours set contains 40 planks in two colours, as well as an art book with original construction models especially adapted to suit the colours in the box.

Choose your favourite colours from the three sets available: red and orange, yellow and green, and light blue and dark blue. Explore a variety of constructions suitable for all ages and levels.

From simple constructions to graphic and abstract designs, all builders will find in their Book and Colours set something to enjoy, improve with, and captivate the imagination!

THE MAGIC OF KAPLA®

Sourced from 100% renewable French forests, KAPLA planks are made from natural and untreated Landes pine. The coloured planks are dyed using food-safe colouring.

KAPLA planks are all the same size and allow builders to play and create with endless possibilities. The planks are simply assembled without the need for glue or clips, so you can build from the imagination.

A KAPLA construction is by its nature short-lived, and breaking it apart is often as fun as building it! The same planks can be re-used to build other imaginative structures and worlds ... An open-ended game for hours of creativity!

- Natural

100% natural, untreated and sustainable Landes pine

- Universal

Suitable for ages 2+, to play solo or in groups

- Simple

The planks are all the same size and can be assembled without the need for glue

- Educational

Stimulates creativity, ingenuity, perseverance and dexterity

- Limitless

Identical pieces, endless construction possibilities

Planks 40

Height 24cm

Width 24cm

Depth 6cm

Weight 1kg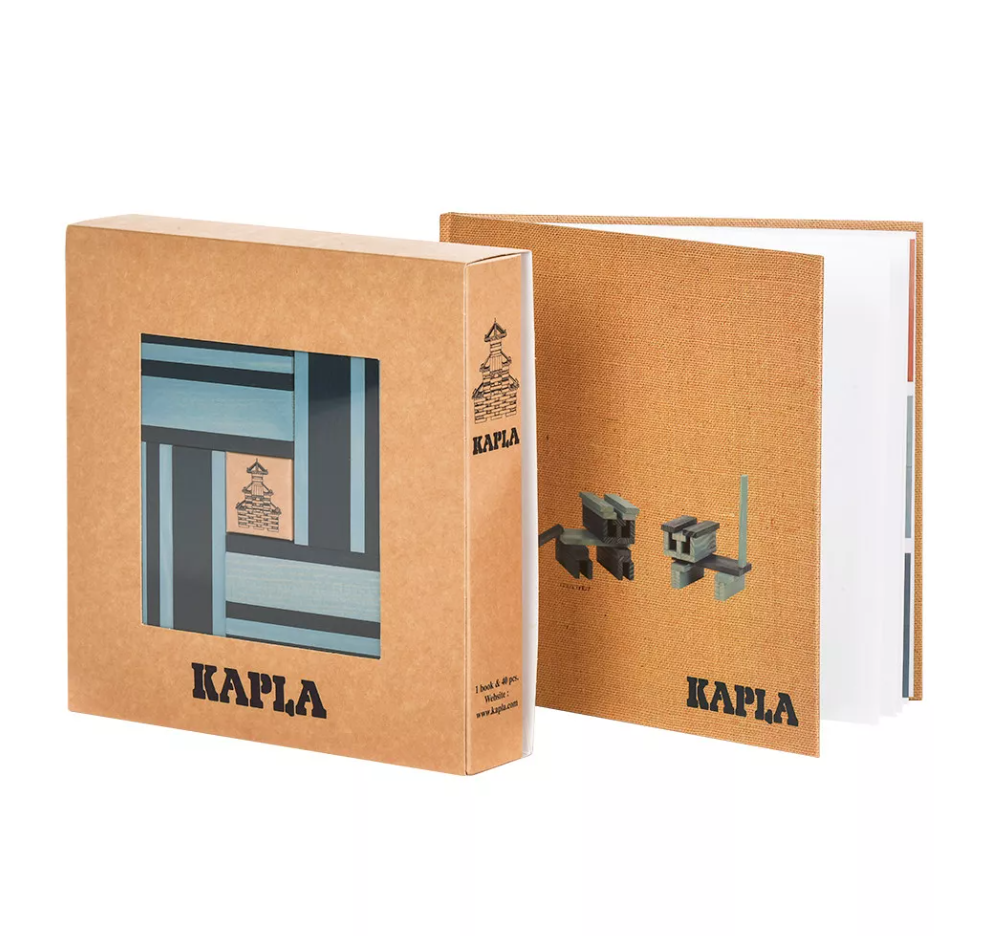 Product Description
The KAPLA Book and Colours set contains 40 planks in two colours, as well as an art book with original construction models especially adapted to suit the colours in the box.
Choose your favourite colours from the three sets available: red and orange, yellow and green, and light blue and dark blue. Explore a variety of constructions suitable for all ages and levels.
From simple constructions to graphic and abstract designs, all builders will find in their Book and Colours set something to enjoy, improve with, and captivate the imagination!
THE MAGIC OF KAPLA®
Sourced from 100% renewable French forests, KAPLA planks are made from natural and untreated Landes pine. The coloured planks are dyed using food-safe colouring.
KAPLA planks are all the same size and allow builders to play and create with endless possibilities. The planks are simply assembled without the need for glue or clips, so you can build from the imagination.
A KAPLA construction is by its nature short-lived, and breaking it apart is often as fun as building it! The same planks can be re-used to build other imaginative structures and worlds ... An open-ended game for hours of creativity!
- Natural
100% natural, untreated and sustainable Landes pine
- Universal
Suitable for ages 2+, to play solo or in groups
- Simple
The planks are all the same size and can be assembled without the need for glue
- Educational
Stimulates creativity, ingenuity, perseverance and dexterity
- Limitless
Identical pieces, endless construction possibilities
Planks 40
Height 24cm
Width 24cm
Depth 6cm
Weight 1kg
Similar Products