products/kapla_pack_1000_1.png
Inside this beautiful, screen-printed wooden case, you will find 1000 KAPLA planks in natural Landes pine and two instruction booklets.

Practical thanks to its wheels and handles, the 1,000-piece Pack will accompany builders big and small on even their wildest projects!

The instruction booklets are included to guide builders on their first steps, offering construction basics, techniques, and models.

Share moments of fun amongst all age groups, and build your ideas together. An experienced builder? Dare to be ambitious and make those epic projects happen!

A creative and open-ended construction game with infinite possibilities. Whether solo, with friends, or with the whole family, KAPLA® will be sure to bring out your creative side!

THE MAGIC OF KAPLA®

Sourced from 100% renewable French forests, KAPLA planks are made from natural Landes pine. The coloured planks are dyed using food-safe colouring.

KAPLA planks are all the same size and allow builders to play and create with endless possibilities. The planks are simply assembled without the need for glue or clips, so you can build from the imagination.

A KAPLA construction is by its nature short-lived, and breaking it apart is often as fun as building it! The same planks can be re-used to build other imaginative structures and worlds ... An open-ended game for hours of creativity!

- Natural

100% natural and sustainable Landes pine

- Universal

Suitable for ages 2+, to play solo or in groups

- Simple

The planks are all the same size and can be assembled without the need for glue

- Educational

Stimulates creativity, ingenuity, perseverance, and dexterity

- Limitless

Identical pieces, endless construction possibilities

Planks 1000

Colours Natural

Height 39 cm

Width 38 cm

Depth 38 cm

Weight 19 kg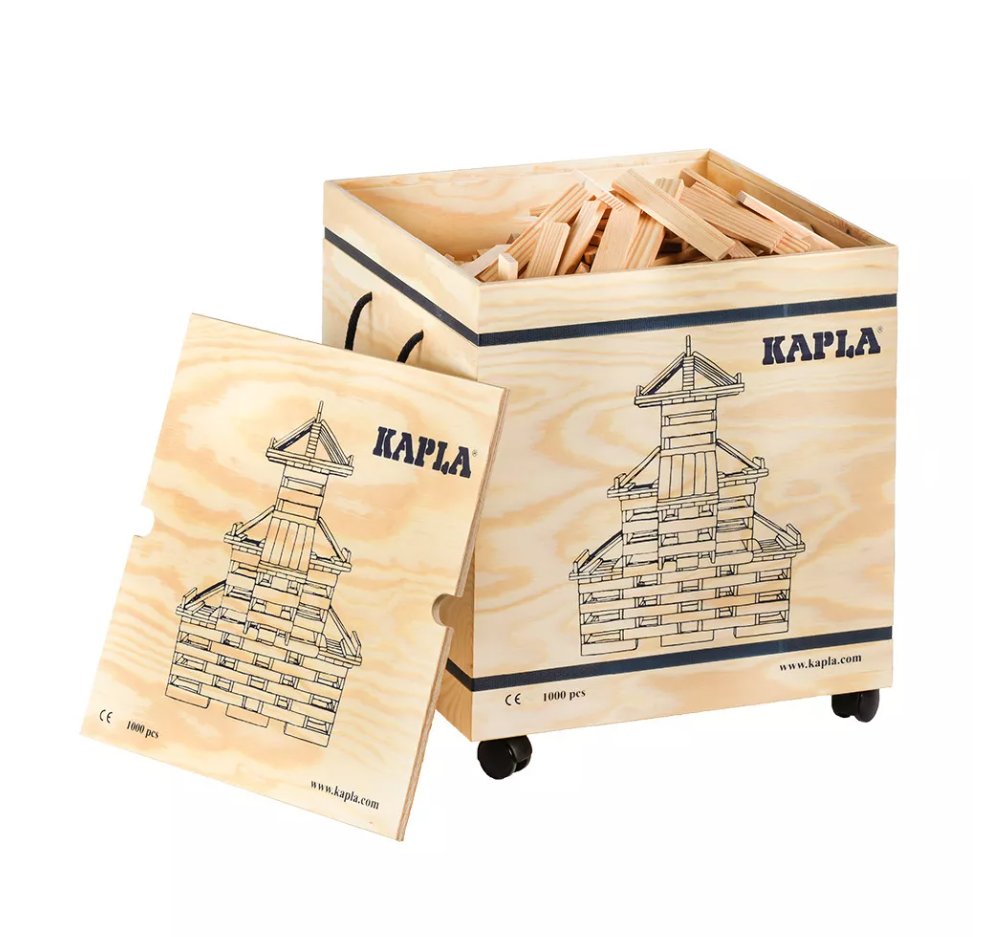 Product Description
Inside this beautiful, screen-printed wooden case, you will find 1000 KAPLA planks in natural Landes pine and two instruction booklets.
Practical thanks to its wheels and handles, the 1,000-piece Pack will accompany builders big and small on even their wildest projects!
The instruction booklets are included to guide builders on their first steps, offering construction basics, techniques, and models.
Share moments of fun amongst all age groups, and build your ideas together. An experienced builder? Dare to be ambitious and make those epic projects happen!
A creative and open-ended construction game with infinite possibilities. Whether solo, with friends, or with the whole family, KAPLA® will be sure to bring out your creative side!
THE MAGIC OF KAPLA®
Sourced from 100% renewable French forests, KAPLA planks are made from natural Landes pine. The coloured planks are dyed using food-safe colouring.
KAPLA planks are all the same size and allow builders to play and create with endless possibilities. The planks are simply assembled without the need for glue or clips, so you can build from the imagination.
A KAPLA construction is by its nature short-lived, and breaking it apart is often as fun as building it! The same planks can be re-used to build other imaginative structures and worlds ... An open-ended game for hours of creativity!
- Natural
100% natural and sustainable Landes pine
- Universal
Suitable for ages 2+, to play solo or in groups
- Simple
The planks are all the same size and can be assembled without the need for glue
- Educational
Stimulates creativity, ingenuity, perseverance, and dexterity
- Limitless
Identical pieces, endless construction possibilities
Planks 1000
Colours Natural
Height 39 cm
Width 38 cm
Depth 38 cm
Weight 19 kg
Similar Products