products/kapla_spider_case_1.png
The Spider Case is a new addition to the KAPLA range!

The wooden case contains a selection of 75 natural and coloured planks (55 natural, 10 yellow and 10 green).

On the back of the sliding lid, there are detailed steps that will guide builders aged 4+ in creating their own adorable spider.

In making their spider, builders will learn how to create the shape of a ball with KAPLA planks.

Equipped with this new technique, other creations are sure to follow... such as an octopus or a balloon!

All our colours are food-grade and safe for little ones.

THE MAGIC OF KAPLA®

Sourced from 100% renewable French forests, KAPLA planks are made from natural Landes pine.

The coloured planks are dyed using food-safe colouring.

KAPLA planks are all the same size and allow builders to play and create with endless possibilities.p> The planks are simply assembled without the need for glue or clips, so you can build from the imagination.

A KAPLA construction is by its nature short-lived, and breaking it apart is often as fun as building it! The same planks can be re-used to build other imaginative structures and worlds ... An open-ended game for hours of creativity!

- Natural

100% natural and sustainable Landes pine

- Universal

Suitable for ages 2+, to play solo or in groups

- Simple

The planks are all the same size and can be assembled without the need for glue

- Educational

Stimulates creativity, ingenuity, perseverance and dexterity

- Limitless

Identical pieces, endless construction possibilities

Planks 75

Colours

Green

Natural

Yellow

Height 27 cm

Width 22 cm

Depth 8 cm

Weight 1,5 kg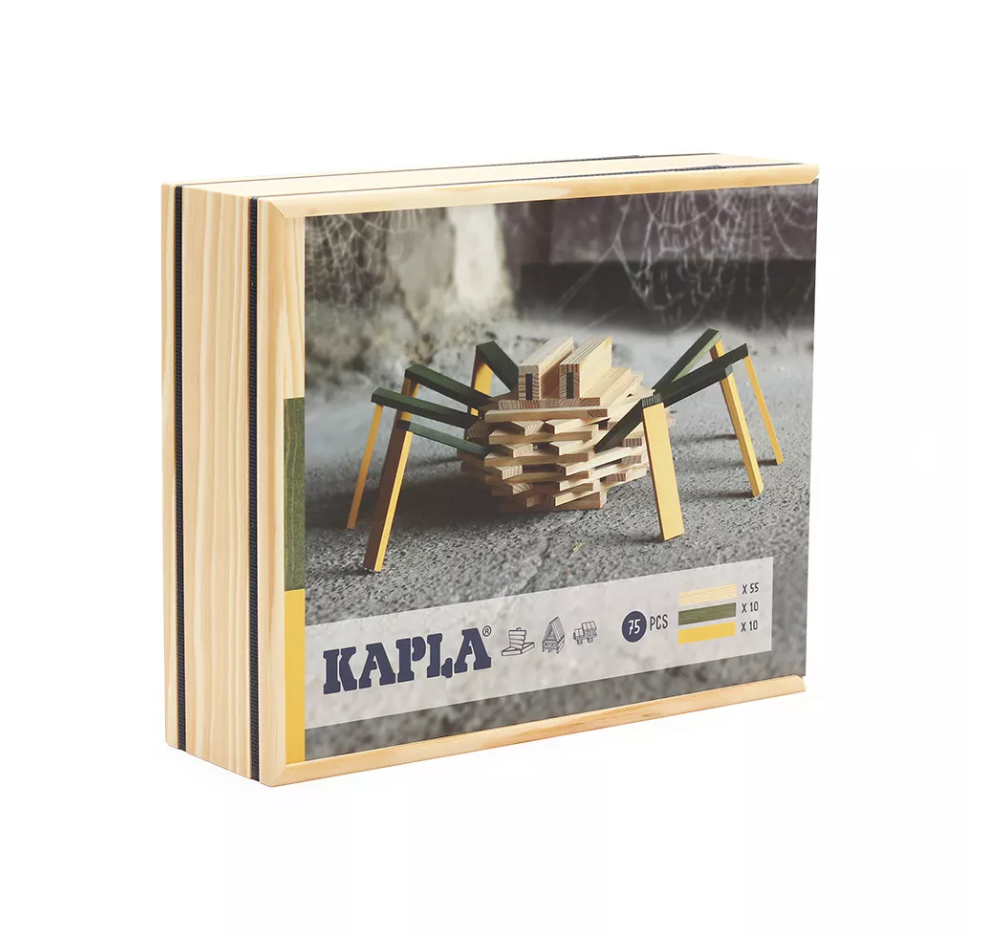 Product Description
The Spider Case is a new addition to the KAPLA range!
The wooden case contains a selection of 75 natural and coloured planks (55 natural, 10 yellow and 10 green).
On the back of the sliding lid, there are detailed steps that will guide builders aged 4+ in creating their own adorable spider.
In making their spider, builders will learn how to create the shape of a ball with KAPLA planks.
Equipped with this new technique, other creations are sure to follow... such as an octopus or a balloon!
All our colours are food-grade and safe for little ones.
THE MAGIC OF KAPLA®
Sourced from 100% renewable French forests, KAPLA planks are made from natural Landes pine.
The coloured planks are dyed using food-safe colouring.
KAPLA planks are all the same size and allow builders to play and create with endless possibilities.p> The planks are simply assembled without the need for glue or clips, so you can build from the imagination.
A KAPLA construction is by its nature short-lived, and breaking it apart is often as fun as building it! The same planks can be re-used to build other imaginative structures and worlds ... An open-ended game for hours of creativity!
- Natural
100% natural and sustainable Landes pine
- Universal
Suitable for ages 2+, to play solo or in groups
- Simple
The planks are all the same size and can be assembled without the need for glue
- Educational
Stimulates creativity, ingenuity, perseverance and dexterity
- Limitless
Identical pieces, endless construction possibilities
Planks 75
Colours
Green
Natural
Yellow
Height 27 cm
Width 22 cm
Depth 8 cm
Weight 1,5 kg
Similar Products