products/chronos_1.jpg
Kosmos 'Chronos' JS2 LED Devil Stick
The JS2 variation of the Chronos LED devil stick - this devil stick can be colour synchronized with other JS2 props. Users can change colours using a small magnet. The battery is recharged from the mains using a charger, you have to purchase a separate Kosmos Distributor Charger and you will be supplied a free 12V Charging Plug.


*Manufactured in robust polypropylene material, for excellent durability.
*Rubber end caps.
*Length: 66cm
*42 colours. 1500 combinations.
*Reinforced shockproof design
*23 customizable programs. User can select one or two colours, mixed or combined at different speeds.
*There are 42 colours and more than 1500 combinations.
*Juggling synchronization system (JS2). It can synchronize with any other JS2 product.
*Magnetic programming
*Dual program feature (stores 2 programs)
*Touch sensor technology (with dedicated programs)
*3 to 6 hours of glowing time (depending of the program)
*Rechargeable with integrated battery charging controller with auto 'power off' on low battery conditions to protect the battery life.
*Charger is not included

How about adding Kosmos "Beamer" Remote control:
Something a little special from the guys at Kosmos Juggling. Using this remote control you can program all of your JS2 Kosmos products. The Beamer is a long distance (15m range) remote control that allows you to synchronise LED props with each other including the possibilities to change colours and programs. The Beamer also comes loaded with a magnet so you can manipulate your props that way if you so choose. The glow-in-the-dark keyboard has customizable short cut keys as well as pre-set functions. Comes with a 1 year warranty. This 'Beamer' uses 2 AA batteries (international customers please note that due to international shipping restrictions your Beamer may come without batteries).

Click here for the Kosmos Chronos JS2 User Manual.

Kosmos equipment may arrive uncharged. Please allow for charging time when placing your order. Thanks.


CHARGER SOLD SEPARATELY- CLICK LINK TO BUY- https://www.oddballs.co.uk/kosmos-5-pin-charger.html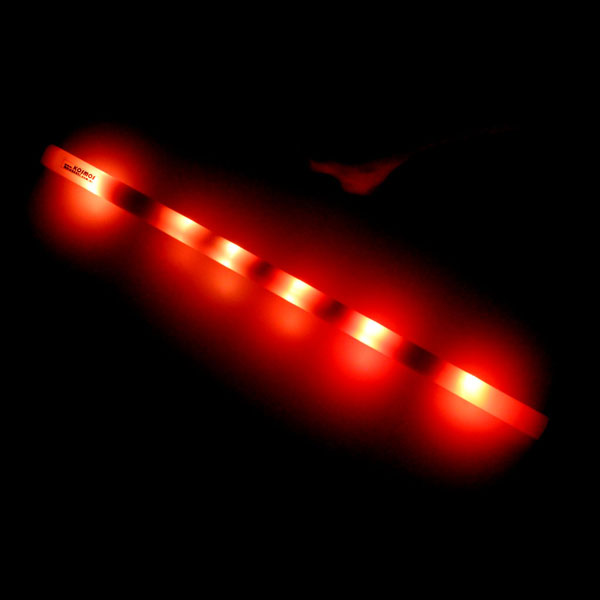 Product Description
The JS2 variation of the Chronos LED devil stick - this devil stick can be colour synchronized with other JS2 props. Users can change colours using a small magnet. The battery is recharged from the mains using a charger, you have to purchase a separate Kosmos Distributor Charger and you will be supplied a free 12V Charging Plug.
*Manufactured in robust polypropylene material, for excellent durability.
*Rubber end caps.
*Length: 66cm
*42 colours. 1500 combinations.
*Reinforced shockproof design
*23 customizable programs. User can select one or two colours, mixed or combined at different speeds.
*There are 42 colours and more than 1500 combinations.
*Juggling synchronization system (JS2). It can synchronize with any other JS2 product.
*Magnetic programming
*Dual program feature (stores 2 programs)
*Touch sensor technology (with dedicated programs)
*3 to 6 hours of glowing time (depending of the program)
*Rechargeable with integrated battery charging controller with auto 'power off' on low battery conditions to protect the battery life.
*Charger is not included
How about adding Kosmos "Beamer" Remote control:
Something a little special from the guys at Kosmos Juggling. Using this remote control you can program all of your JS2 Kosmos products. The Beamer is a long distance (15m range) remote control that allows you to synchronise LED props with each other including the possibilities to change colours and programs. The Beamer also comes loaded with a magnet so you can manipulate your props that way if you so choose. The glow-in-the-dark keyboard has customizable short cut keys as well as pre-set functions. Comes with a 1 year warranty. This 'Beamer' uses 2 AA batteries (international customers please note that due to international shipping restrictions your Beamer may come without batteries).
Click here for the Kosmos Chronos JS2 User Manual.
Kosmos equipment may arrive uncharged. Please allow for charging time when placing your order. Thanks.
CHARGER SOLD SEPARATELY- CLICK LINK TO BUY-
https://www.oddballs.co.uk/kosmos-5-pin-charger.html
Similar Products
I bought these with ...
I bought these with the idea of bringing them to festivals and other music events. I am relatively amateur at the devil sticks been doing them on and off for a couple years, but am not nearly a show professional. That all being said for context, these sticks are pretty awesome. The main reason i bought these were for the light intensity and light up variability and those expectations were met and exceeded. When fully charged it is quite lit up. I practice in a park in the city and so there is a lot of ambient light in even the darkest part, and the Chronos is still very visible. So that was the good and why i wanted it and why i give it 5 stars. Negatives on the chronos: i am used to a Dube Fire devil stick, which as far as the reviews that i have read, everyone agrees on the fact that they are weighted wonderfully. When transitioning to the Chronos i found that it was a far lighter stick, which made maneuvering more difficult than with the dube. 2nd: The directions are not specialized for the Chronos but rather "apply" to the entire line of products, which would be fine, but i noticed that 2 of the light sequences were not included in the directions. The directions themselves, regarding programming the stick, probably need to be rewritten and hopefully specialized per a product. It took me roughly an hour or so to figure out the sequencing process and how to move from the "menu page" to the actual selection of sequences. That being said, once you get the hang of it, it is relatively easy to use. Just needs better thought out/edited directions. Given the company is in Argentina, it might have just been a translation issue, but still... Last minor issue is that i am in the USA, and the charger i received is from... well not the USA (Argentina/UK/?). I bought a US AC charger which should hypothetically work, as the direction explain, but for some reason it does not charge the stick. i had to get a converter and use that to charge. might be a singular issue, might not be. Finally, the directions state that the stick will turn off when plugged in to the wall as a sign that it is actually charging. This does not happen. Might have to do with me being on a US electric grid, might not. Once again, need specific directions. So to sum it all up: If you are looking for some beautiful devil sticks to light up your night, you should get these! There are some minor problems, but the performance that you can get out of these is pretty freakin sweet. Hope this helps.