products/strobe-fade-balls2_1.jpg

files/strobe-fade-balls3_1_1_bd92a423-67c9-45fc-8bab-b201057c3bd0.jpg

files/strobe-fade-balls1_1_1_1_b3b29a29-1c9e-49d0-89c5-e7e5a6d8c437.jpg
Price is for one ball.
Professionally weighted LED juggling balls made by us! As good as many balls twice their price. Each ball is inclusive of 3 x high-powered LR44 cell batteries. You can expect around 5-6 hours of use from disposable batteries or you can swap them for rechargables for about 3-4 hours use. The batteries are available in most hardware shops or you can buy them from the Oddballs Website


This Slow Face variation of the Oddballs LED ball slowly fades through a bright colour spectrum: red -> yellow -> green -> turquoise -> blue -> purple. This LED Ball is gorgeous when juggled in dark, and probably our favorite from the range. Each ball has been filled with translucent plastic pellets to provide better light transparency
Please note you have to remove the protection between batteries before first usage!
Specs:
Weight: 155 gr.
Diameter: 68mm.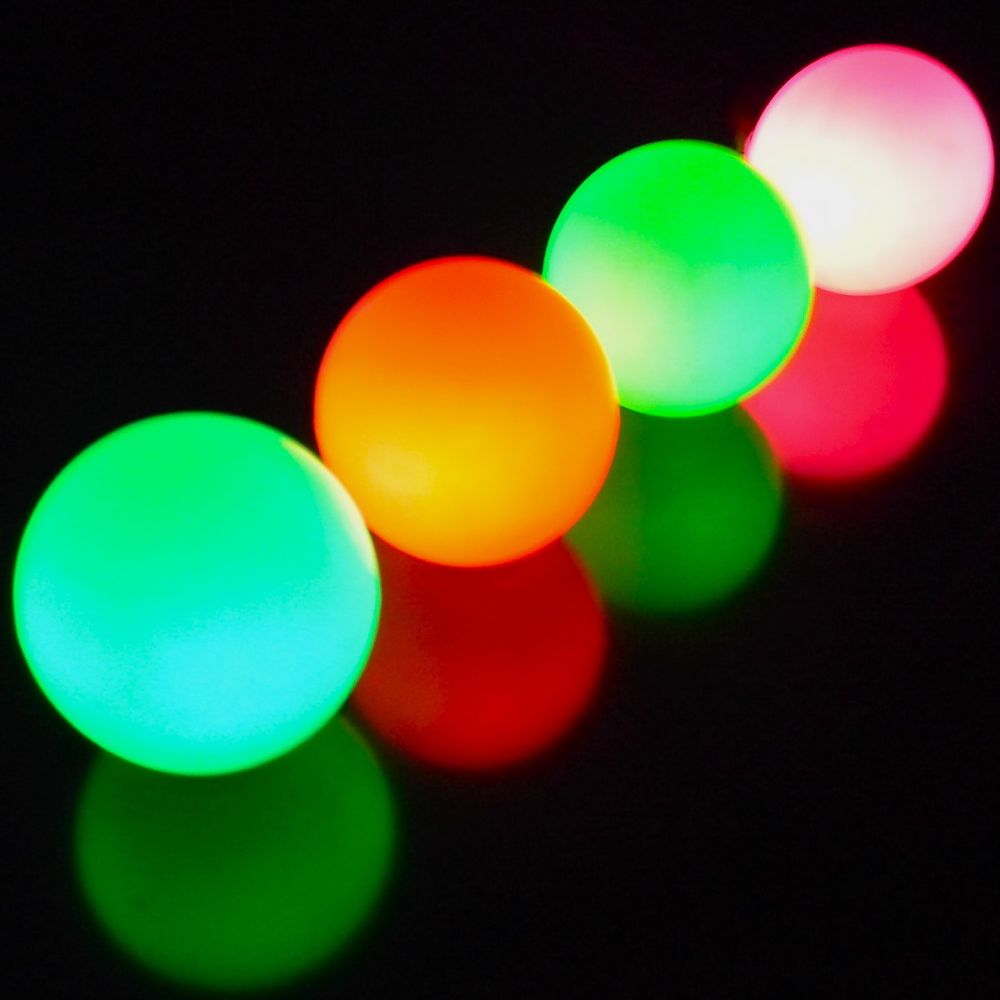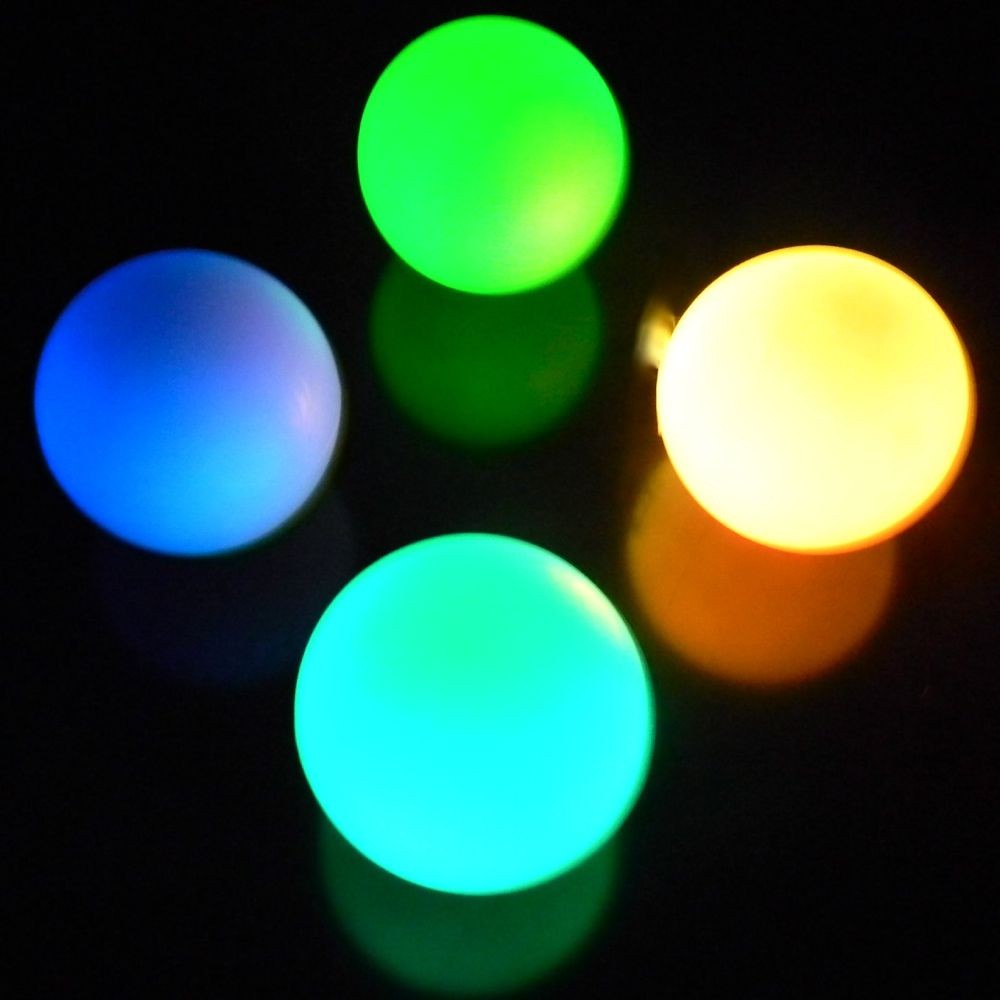 Product Description
Price is for one ball.
Professionally weighted LED juggling balls made by us! As good as many balls twice their price. Each ball is inclusive of 3 x high-powered LR44 cell batteries. You can expect around 5-6 hours of use from disposable batteries or you can swap them for rechargables for about 3-4 hours use. The batteries are available in most hardware shops or you can buy them from the Oddballs Website


This Slow Face variation of the Oddballs LED ball slowly fades through a bright colour spectrum: red -> yellow -> green -> turquoise -> blue -> purple. This LED Ball is gorgeous when juggled in dark, and probably our favorite from the range. Each ball has been filled with translucent plastic pellets to provide better light transparency
Please note you have to remove the protection between batteries before first usage!
Specs:
Weight: 155 gr.
Diameter: 68mm.
Similar Products
Love them. Need to up my game though!
So I first came across these at the Green Gathering festival. Semi into juggling, all my friends do staff and poi and fire spinning.
Until I met this guy, a juggler at the festival who lent me his juggling balls basically for the weekend. I wasn't exactly on the level with circa media like everyone else.
After playing around with the single colour ones I was taken with them.
The guy who lent me his, told me about the site and it being .co.uk and not .com or else I would come across somethings I probably didn't need or want to see...
Shortly after coming back, I went and bought some of these! The slow fade is awesome. Gentle changing and I am sure they sync with each other?!
(I've notice that anyway. Like when I drop one from learning, or the motion? Like the pattern of colour changes, be that meaning they all sync colour change at the same time or one is out and two the same or all different. I haven't worked it out yet.)
Anyway!
Nicely designed with the LEDs tucked inside. Mesmerising to watch. Bright and beautiful. Kinda soft, kinda bouncy, good choice of materials.
Look amazing when done well, I am a little way off yet but when you see someone else doing it at a gathering, event, street, close up or far away in the dark.
It's a real pleasure to watch.
Fun to use too haha had me hooked after I used them at the festival..
I think robust is the word? From what they are made from, I don't see me breaking them or wearing holes in them any time soon.
Bit different from bean bags!
Little less forgiving maybe, hence the title.
That's just me though and them clashing in mid air.
Just need to raise my game.
My technique totally. Can't blame my tools this time :)
I'm learning and I love them. Definitely check out the strobe multi colour option. I did not realise how awesome they are too.
I was a bit like strobe?! How am I going to be able to juggle and see with 3 different strobe lights in front of me.
But.
They are like multi coloured strobes and also pretty to watch..
Slow fade is my favourite though!
Anyhow, my last set of slow fades from this company got lost in transit over the years somewhere and I literally just bought some more.
That's how taken I am with them.
I love them. Other people love them.
Fun to use and great to watch someone else having fun with them too.
Good purchase and I recommend them 100%.
(I got mine and also capitalised on the deal that the company does on the 3 different types, single colour, strobe, slow fade)
Pretty sure if I wanted to, taking to the street and putting a hat out would pay for these in no time.
Thanks again guys! Arrived safe and sound. Love the bag I bought for them to live in too.
I ordered this along...
I ordered this alongside a set of 5 glow balls without the fading effect. The fading colours adds a real beauty to the performance - although it takes a little practice with the balls lit to get your brain used to the idea that one of the balls is changing colour - caught myself out a couple of times when a red ball suddenly appeared out of sequence as I was practicing! I'll see about the longevity but seem to be very well made, and certainly add to an act in the dark or twilight conditions!
These are undoubtedl...
These are undoubtedly more antithetically pleasing than the balls which are solid colors. They are, however, harder to keep track of and can hence be confusing in tricks requiring careful management of specific balls! But it looks lovely in the dark, fairly strong - I've dropped mine a couple of times - hard but with some leeway in the, and so I would taken to rate them highly. If I had to recommend any offeredably juggling balls to something interested in making their juggling just that more interesting, they would definitely be it! Batteries (LD40s) are easy to change and last for a while. :)Juggle in the dark without fear! Also they are weighty enough not to have to worry about casual breezes outside as you would with tennis balls. If You read my review and do not buy his reasonable prices product you must either be a non-juggler or a fool!
These balls look gre...
These balls look great! Very reasonable price too.
Super speedy deliver...
Super speedy delivery, fantastic product. The colour changes a little faster than I expected from the description, about once every 2 seconds, but the change is gradual from one colour to the next. I'd describe it as "fade" rather than "slow fade", but it's definitely much slower than "strobe".
When I received the balls, two worked "straight out of the packaging", but one did not. On closer inspection it turned out that one ball had some small pieces of cardboard in the battery compartment, presumably to prevent accidental battery discharge. When these were removed, everything worked perfectly.
Very easy to access the battery compartment to change the batteries when needed.
Highly recommended.