products/sundia_sun_series_1.jpg

files/sundia-shining-triple-bearing-diabolo-blue.jpg

files/sundia-shining-triple-bearing-diabolo-green.jpg

files/sundia-shining-triple-bearing-diabolo-orange.jpg

files/sundia-shining-triple-bearing-diabolo-purple.jpg

files/sundia-shining-triple-bearing-diabolo-red.jpg

files/sundia-shining-triple-bearing-diabolo-yellow.jpg

files/sundia-shining-triple-bearing-diabolo-pink.jpg

files/sundia-shining-triple-bearing-diabolo-clear.webp

files/sundia-shining-triple-bearing-diabolo-black.webp
The stunning ''Triple Bearing'' Shining Diabolo from Sundia is the probably the best ball bearing diabolo money can buy!
The "Shining" has a triple bearing axle design which gives outstanding performance, even compared with single bearing diabolos. The triple bearing system also has the major advantage of being almost completely silent (unlike single bearings).

For those unfamiliar with one-way ball bearing axle (AKA clutch) diabolos. These diabolos are fitted with an axle that rotates only in one direction. The spinning speed is built up in the usual way but once up to speed, the diabolo spins on the internal bearing and is not slowed by the friction of the string. Combine these benefits with the stunning see-through cups & carbon fiber washers and this all adds up to a truly fantastic diabolo!

Additional benefits of playing with a triple bearing diabolo:
1. Allows you to pick up tremendous speeds which will give you more time to execute some of the more advance and technical moves.
2. More bearings = less friction. A triple bearing diabolo will go almost twice as fast as single bearing diabolo.
3.A wide Bearing axle will make your diabolo very stable at high speeds and is great for finger and stick grinds.

Diabolo Specification:
Diabolo Level: All Levels of skill.
Diabolo Size: Large
Axle Type: One Way - Triple Ball Bearing
Dimensions: Diameter: 128mm, Width:150mm, Weight: 282g
Manufacturer: Sundia - Taiwan

If you're looking for handsticks, you can view our full range in the diabolo handstick section.
Email me when back in stock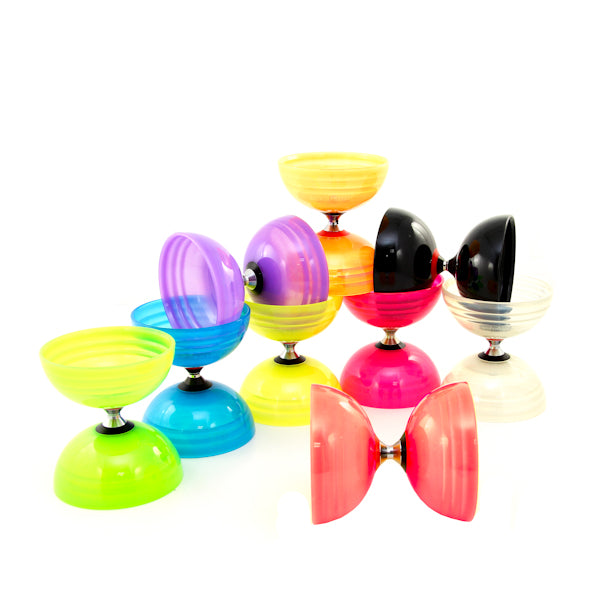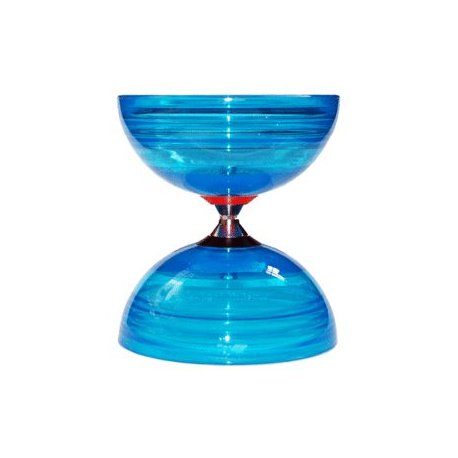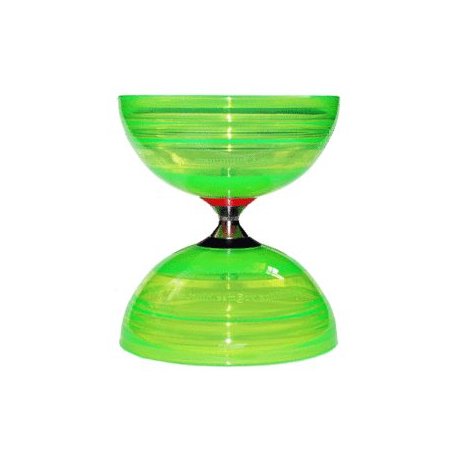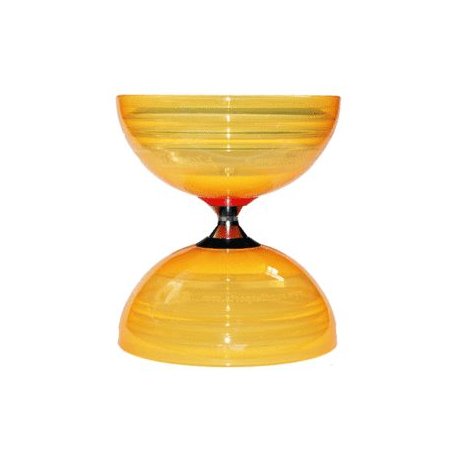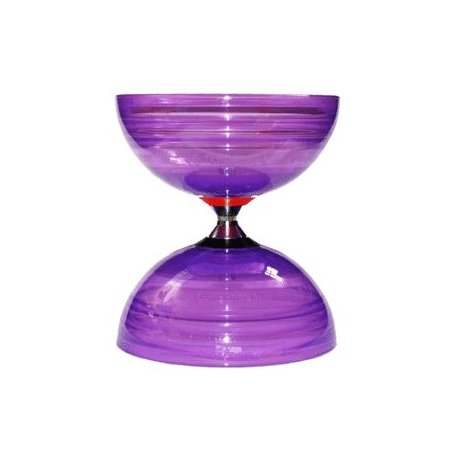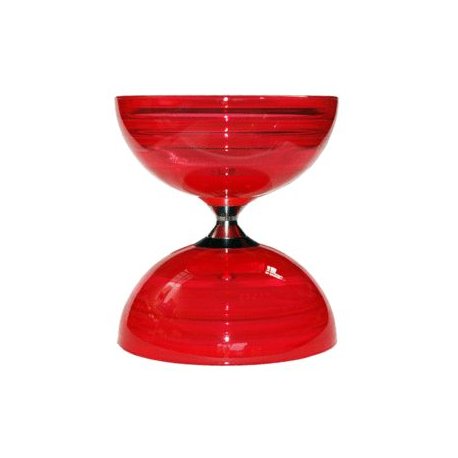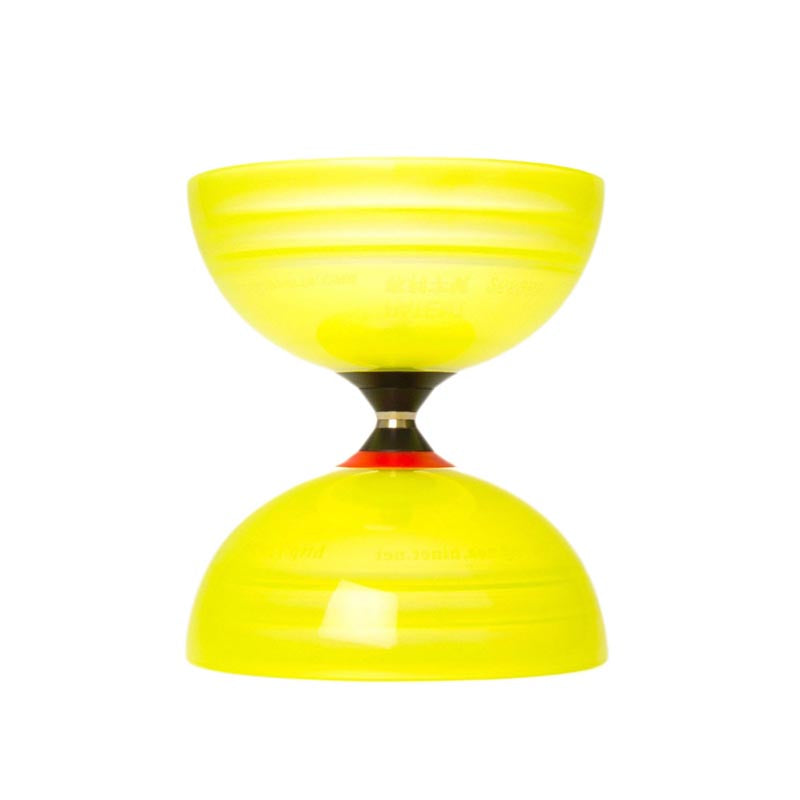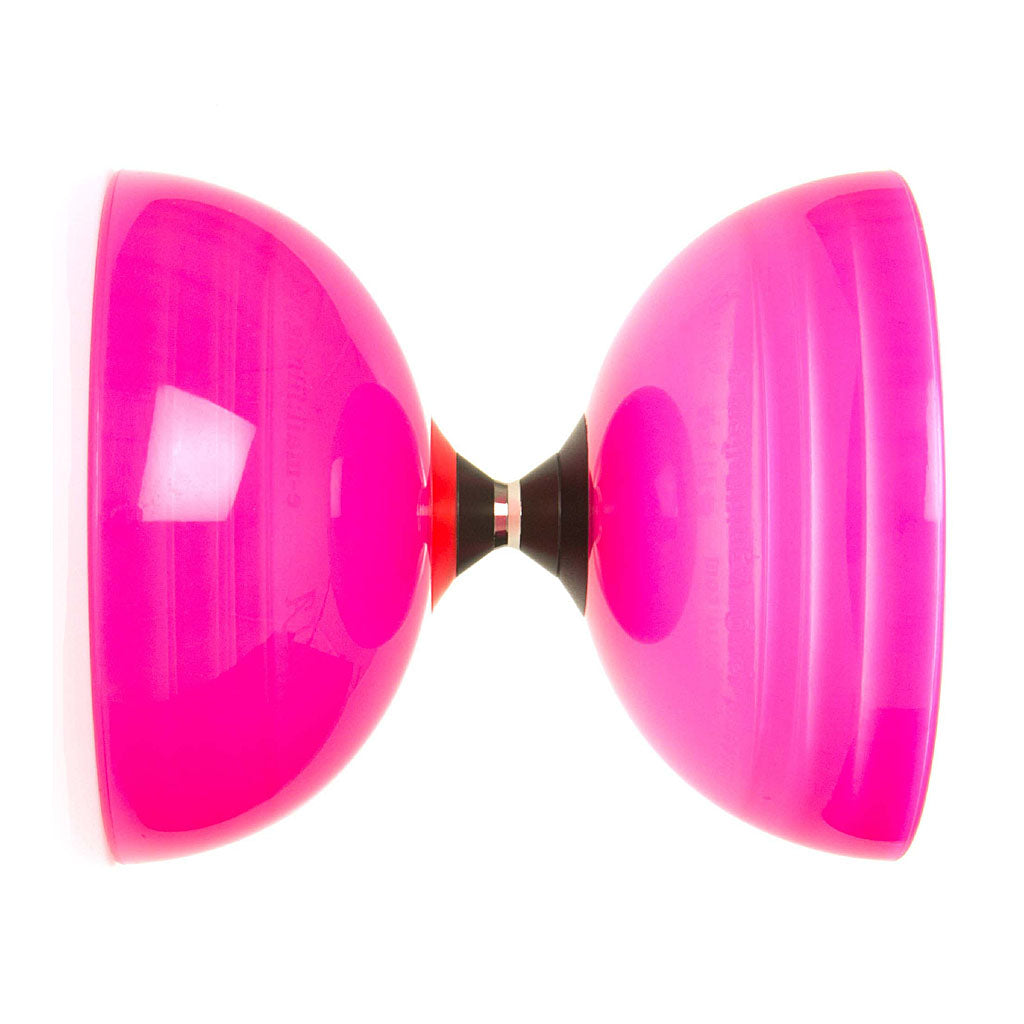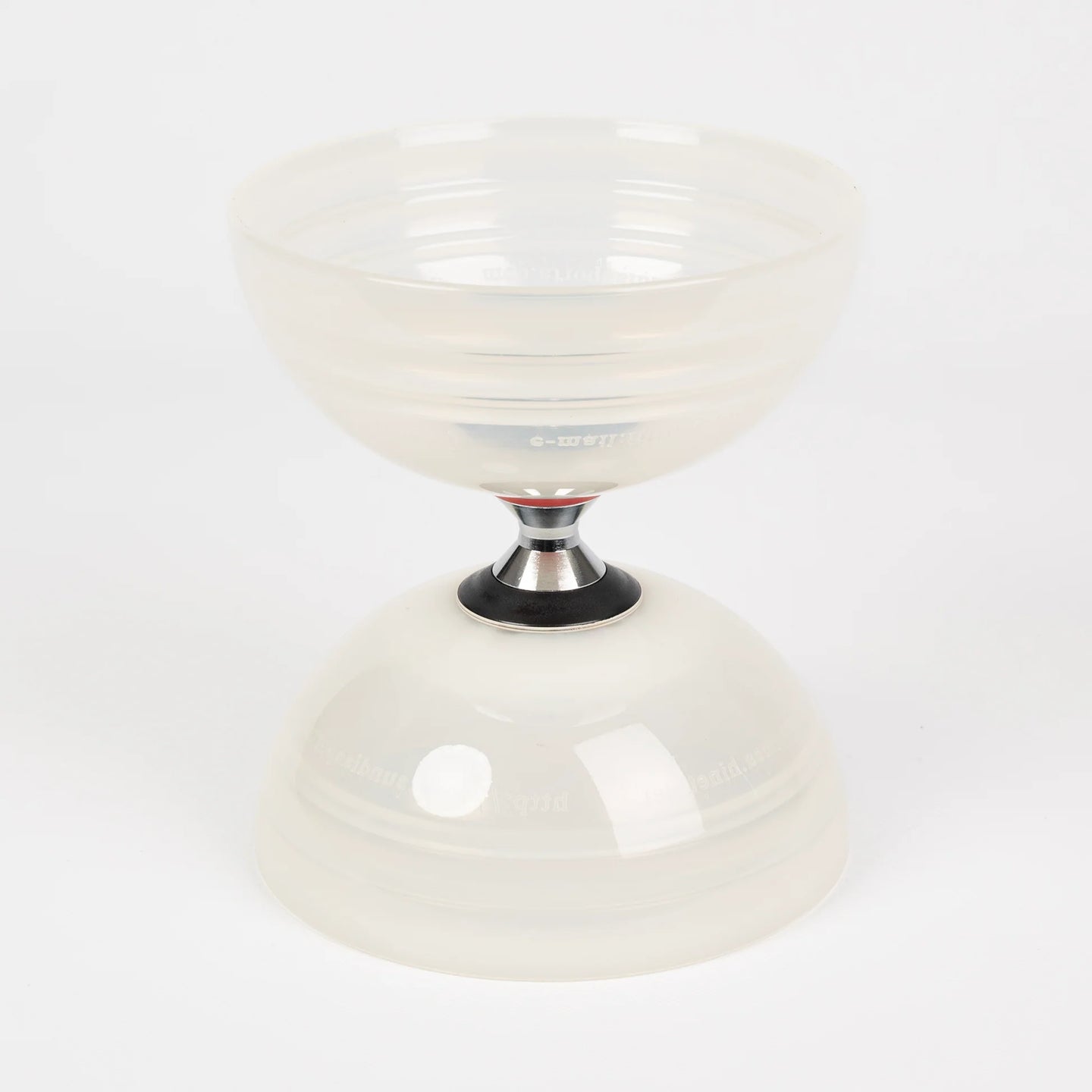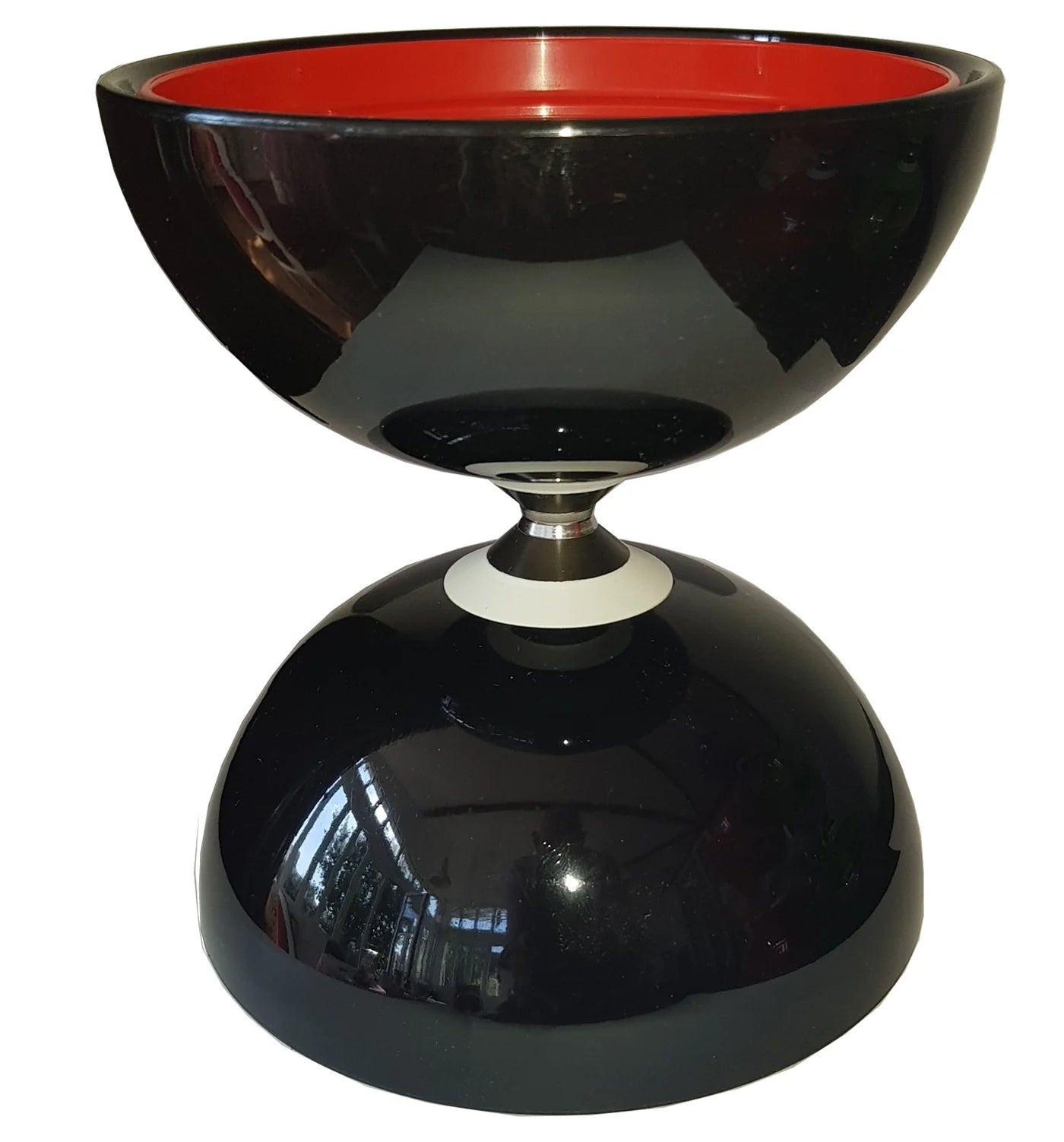 Product Description
The stunning ''Triple Bearing'' Shining Diabolo from Sundia is the probably the best ball bearing diabolo money can buy!
The "Shining" has a triple bearing axle design which gives outstanding performance, even compared with single bearing diabolos. The triple bearing system also has the major advantage of being almost completely silent (unlike single bearings).

For those unfamiliar with one-way ball bearing axle (AKA clutch) diabolos. These diabolos are fitted with an axle that rotates only in one direction. The spinning speed is built up in the usual way but once up to speed, the diabolo spins on the internal bearing and is not slowed by the friction of the string. Combine these benefits with the stunning see-through cups & carbon fiber washers and this all adds up to a truly fantastic diabolo!

Additional benefits of playing with a triple bearing diabolo:
1. Allows you to pick up tremendous speeds which will give you more time to execute some of the more advance and technical moves.
2. More bearings = less friction. A triple bearing diabolo will go almost twice as fast as single bearing diabolo.
3.A wide Bearing axle will make your diabolo very stable at high speeds and is great for finger and stick grinds.

Diabolo Specification:
Diabolo Level: All Levels of skill.
Diabolo Size: Large
Axle Type: One Way - Triple Ball Bearing
Dimensions: Diameter: 128mm, Width:150mm, Weight: 282g
Manufacturer: Sundia - Taiwan

If you're looking for handsticks, you can view our full range in the diabolo handstick section.
Similar Products
The spin time is def...
The spin time is definitely best in the market today and very quiet. The diabolo overall is reasonable in weight and balance. The material is hard plastic with some flex, not too bad in terms of scratches. Very pretty shell material. We really like it.
Bought this diabolo ...
Bought this diabolo about a month ago. I think its the best diabolo you can get to play vertax, a new set of tricks you wouldnt be able to perform with a fixed axle. It comes in stunning colors but unfortunatly it gets scratched if played on concrete and will lose that shining that makes it look beautiful. Highly recomended.
A must have for play...
A must have for playing vertax!
The best diabolo I h...
The best diabolo I have! I'd wanted a bearing diabolo for ages and after using this one at a convention I decided to buy one for myself. It's great for practising vertax and doing many other tricks I didn't know existed. I've had it for nearly a year now and it still functions perfectly like when it was brand new (just slightly less shiny).
The sundia shining i...
The sundia shining is the best diabolo on this site by far and doesn't seem to break easly. If your looking to buy it then definately do it!!!