products/wolkenstuermer_eddy_shark_-_delta_single_line_traditional_flying_kite_5.jpg
Wolkenstuermer Eddy Shark - Delta Single Line Traditional Flying Kite
Our Eddy Shark first storms the oceans and then the sky! His cheeky grin convinces young and old - even young pilots from the age of 3 can fly the single-line kite thanks to its easy handling. The low weight of 180 g and a wingspan of 75 cm also have an advantage when flying, so that it can easily be driven through the wind from 1.5 Bft. can slide. The single line is the ideal companion for the next outdoor excursion. Eddy Shark is delivered to your home ready to fly, so you get everything you need for flying fun. The package includes the single-line kite and a handle with 40 m cord - all packed in a practical bag.

Age: from 3

diameter linkage : 4mm

Color: Blue

linkage: glass fiber

skill level: 1 out of 5

number of lines: 1

Steering option included: Handle Basic

cords available: 40 m

Span: 75 cm

Material: polyester

Wind force (Bft): from 1.5 Bft.

ready to fly: Yes
Wolkenstuermer Eddy Shark - Delta Single Line Traditional Flying Kite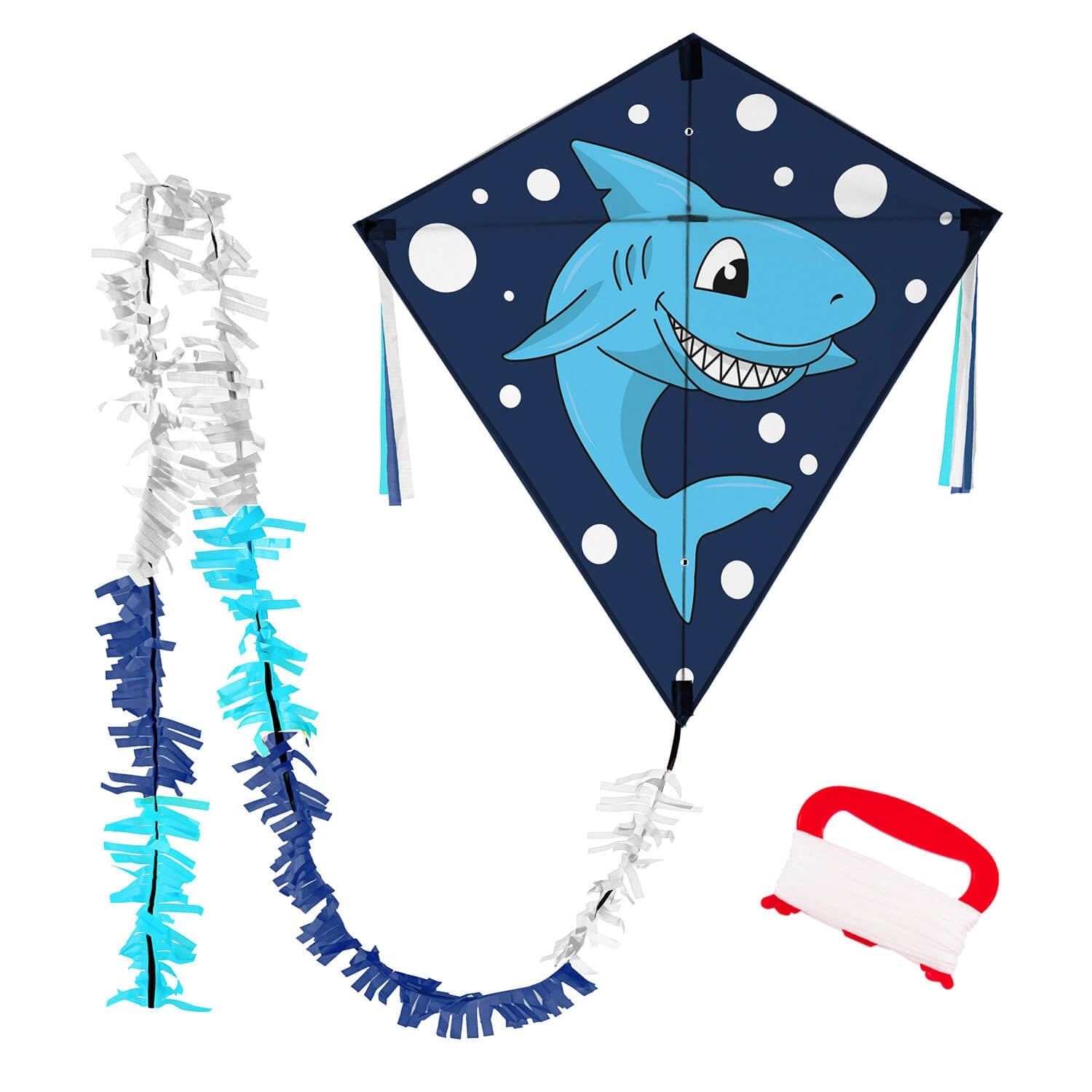 Product Description
Our Eddy Shark first storms the oceans and then the sky! His cheeky grin convinces young and old - even young pilots from the age of 3 can fly the single-line kite thanks to its easy handling. The low weight of 180 g and a wingspan of 75 cm also have an advantage when flying, so that it can easily be driven through the wind from 1.5 Bft. can slide. The single line is the ideal companion for the next outdoor excursion. Eddy Shark is delivered to your home ready to fly, so you get everything you need for flying fun. The package includes the single-line kite and a handle with 40 m cord - all packed in a practical bag.
Age: from 3
diameter linkage : 4mm
Color: Blue
linkage: glass fiber
skill level: 1 out of 5
number of lines: 1
Steering option included: Handle Basic
cords available: 40 m
Span: 75 cm
Material: polyester
Wind force (Bft): from 1.5 Bft.
ready to fly: Yes
Similar Products